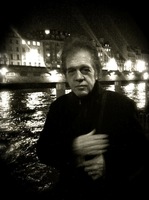 Stephen Warne (1953 - ?)
Raised in the suburban Village of Queens, New York, Stephen was drawn to painting and painted drawings from his earliest memories, developing a love for both color and storytelling.
One school led to another, with Stephen successfully avoiding college by enrolling at the Art Students' League in NYC for two years. His favorite instructor Steven Kidd advised him: "MIND YOUR OWN VISION!" So in 1973, Stephen found himself at the School of Visual Arts for further studies. Classes with the likes of John Button, Frank Owens and Jennifer Bartlett helped him discover a new world, one of improvised murals, "timed" action sketches, and learning to draw with his feet (!). He also discovered the heroes that would influence the rest of his artistic life: Bosch, Breughel, Blake, Bacon and Turner.
After nearly three years of study, unforeseen difficulties led to an abrupt departure from his "formal" education. He worked variously as a waiter, bartender, landscaper, department store security guard and furniture-moving man in Spanish Harlem. It was during this last stint that he met respected artist Jay Milder, who invited Stephen to join the fledgling co-operative "Winter Gallery" in SoHo. One group show and one one-man show proved unsatisfying however, and when a gallery flood destroyed most of his work, Stephen once again returned to the working life. Employed in the Financial District (as a janitor), his luck changed when he met his beloved Jane. They were married on Valentine's Day in 1980 and moved to Manhattan in 1981 for the "adventure of a lifetime" (as Stephen tells it). They have one child, Jude, who is an accomplished writer, composer and vocalist.
As for Stephen, he remains steadfast in his quest to "figure it all out." He has been quoted as saying, "If every man has a story to tell, and every picture tells a story… well then, I'm your man."